The Works record contains vital information on the inventory like Artist, Title, Year, etc., but there are also fields which are populated by saved lists such as Types, AltType, Categories, Location Detail, Periods, Style, etc. To add a new entry to the list for Categories for example users can type directly into the next available field in the category grid and the program will prompt: 'Do you want to save 'xxx' to the List?'. Note this prompt is optional and can be turned off in Settings. SEE General Settings.


To Edit Any of the List Fields
To add or edit entries to the Works List fields, select from the the Main Menu Contacts > Edit List Fields
Use the dropdown button next to Select List to select the list you wish to edit.
In this example we want to change the Type 'Prints' to 'Print':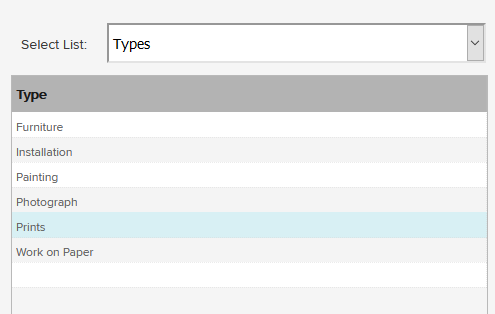 Click on the line that says 'Prints' and retype the entry to 'Print'
When you click off the field Answer Yes to the prompt 'Do you want to apply Types changes to all related Records?'.