Click on References to open the References Pane of the Work record.
References added in the Reference Module may be linked to Work records to build up the history of exhibitions and bibliography. Reference records must be entered in the References module before users can link References to Work record. Users can add Reference links from the Works > References Pane or from the References > Work Pane.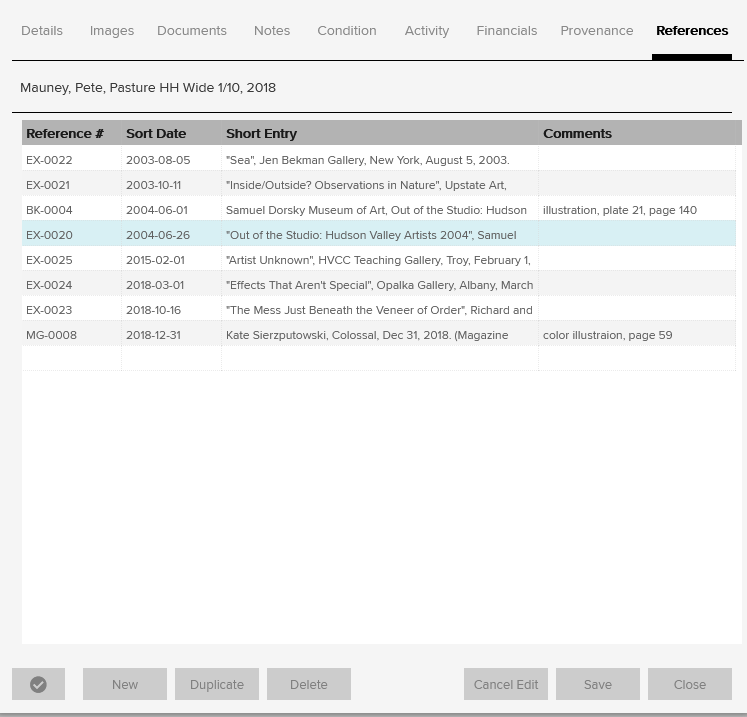 How To link References to Works
Click on the next available line and select the look up Eye icon to open the References link.
Use the Search field to find the specific record to link to Works. Click on the Magnifying Glass icon to select which field to search by.
Click to select the correct Reference and select the OK button.
Once the reference is added, users can add any comments necessary to the line item (such as illustrations, and page numbers). The comments will be added to the citation in reports which include References such as the Infosheet report:
The Infosheet Report
The Infosheet report presents details about the Work record including Provenance, Exhibitions and Bibliography information. Information appearing on the Infosheet is from the Work record (Work details and any provenance entered on the Works Provenance Pane), plus details for the Exhibition and Bibliography entries as linked on the Works References Pane. The Exhibition and Bibliography citations are the Verbose field on the Reference record plus any comments added on the Works Reference Pane:
SEE Overview of the References Module. SEE How to I save Infosheet to Work Record?
How to Delete a Reference Link?
To remove a Reference Link, highlight the Reference line to delete and click the Delete Key on the keyboard. The line item to-be-deleted will appear in Red Text and the link will purge upon saving the record: