Open Works, and Mark the Works to include in the Consignment.
Select from the Preview Panel Transact>Consign Out
Select Marked Works to the question 'Which records would you like to include on this Consignment?'
Select the Next button to continue.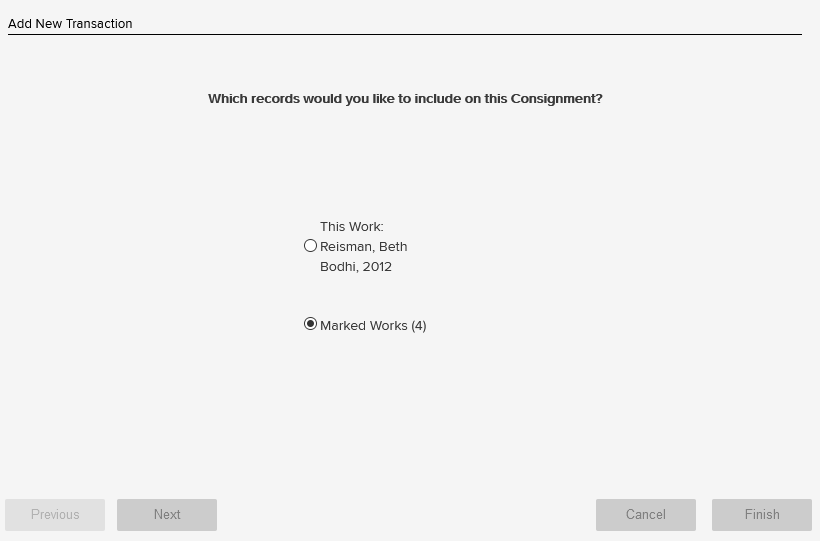 Search the Contacts list to find the Contact for the Consignment. Highlight the Contact and click the Arrow icon next to Consign To: to move the address into the Consign To field. (If Ship To is the same as Consign To you can leave Ship To blank). Select the Finish button to create the new Consignment.
On the Consignment Transaction, users can add fill in any desired detail: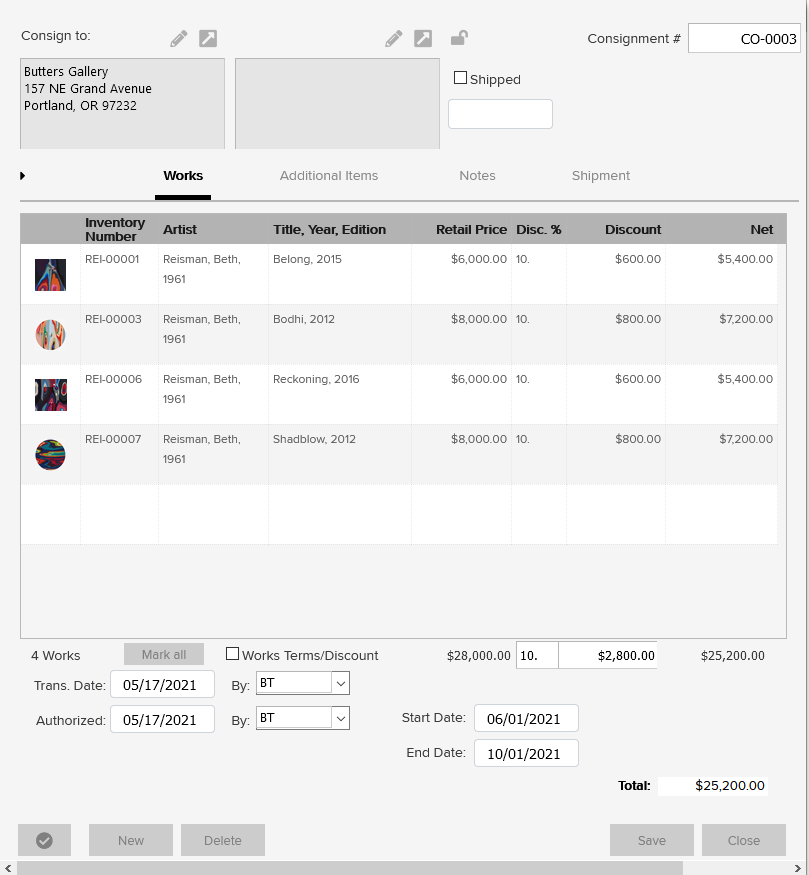 Enter

Discounts

if needed: Users can add an overall discount in the Disc. Percent or Discount Amount columns at the bottom of the grid.
If there are different Discounts applied to each piece Users may click on the Disc. Percent or Discount Amount columns for each line item in the Works Grid. When the discounts are different the Works Terms/Discount will be checked.
Enter the

Prepared By

and

Authorized By

fields if needed.
Enter

Start

and

End

dates for the

Consignment.
Enter notes on the

Notes Screen

if needed.
Enter shipment information on the

Transactions Shipment Screen

if needed. See Transactions Shipment Pane.
When the details are documented on the Consignment Transaction click

Shipped

when the work leaves the premises. Clicking

Shipped

will update the

Works>Location

field and the Works>Status for all works on the Consignment. The Status Color on the Work records will turn Yellow for out on Consignment.
If the work is being shipped on different days, Users can convert the Consignment to Shipment Transactions. Clicking Shipped on the converted Shipment Transaction will change the Works>Location and Works>Status (and change the Status Color to YELLOW).
IMPORTANT: The YELLOW Status color indicates a work is out on Consignment, Loan, Offer or Exhibition. To properly Sell or Return Works with the YELLOW, Users must return to the original Transaction that caused the Work to turn YELLOW and Convert the Transaction to a Return Transaction or an Invoice Transaction.